custom gowns
At Anne Thomas Couture, I collaborate with you to create a one of a kind dress that is completely your own. From the first sketch to the last fitting, I willl create your dream wedding gown. Every dress is handmade and unique!
Photos by Cameron + Kelly Studio
additional custom services
We also offer custom veils, garters, hair fascinators, and sashes!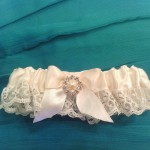 The Process
INITIAL CONSULTATION
I first meet with you to get a feel of your personality and what would best suit your wedding style. We will discuss your figure, dress styles, and fabric textures and colors.
DRAWINGS
My illustrator will provide a draft drawing of the dress concept for your approval. After the final illustration we will set a price for the dress and a 50% deposit is due.
MUSLIN FITTING
I will construct a "practice run" of the dress, which is a constructed from cotton muslin. This is made to your specific measurements, and we use it to get the fit perfect to your body. At this point we can discuss neckline changes, skirt shape, and any other details you would want in the final fabric.
CONSTRUCTION
After the fit is refined in muslin toile, your gown will be sewn in the selected fashion fabric. Three to five additional fittings may be required before completion – these are included in the price and ensure a form-perfect fit close to your wedding.
FINAL FITTING
The final fitting is for the finishing touches. You will try on your wedding dress in the final fabric, and it will fit you like a glove! Small changes are made during this fitting, and any trim finishing touches i.e. wedding sashes, crystal embellishment etc.